Worldwide Rights to MST™ Solar Technology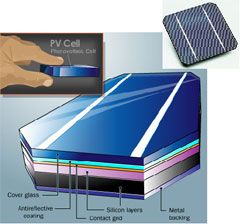 K2 Energy owns the exclusive worldwide rights to the Mears Silicon Technology ("MST™") for all solar energy applications.
K2 Energy funded between 2010 and 2013 a research and development solar program conducted by Mears with the aim being to develop more efficient silicon based cells utilising MST™. Mears and K2 Energy have agreed that the solar research phase is now complete, and that the solar activities have entered the commercialization/collaboration phase. K2 Energy together with the assistance of Mears is actively seeking a major international solar group to joint venture or collaborate with in order to commercialise the MST technology.
Significant gains in solar panel photovoltaic cell efficiency possible in stage one, with further efficiency gains expected with further R&D.
The Mears solar technology has derived directly from the MST™ research. K2 has agreed to fund research and development by Mears Technologies Inc, with the goal of commercialising the Mears improved solar cells. K2 has been granted an exclusive worldwide licence to commercially develop and exploit the solar applications of the MST™ technology. MTI will be entitled to 50% of the earnings from the commercialisation of the solar technology.
Solar cells or photovoltaics (PVs) are an established renewable energy source, with PV cell production increasing by 48% each year since 2002, making it one of the world's fastest growing technologies. The Mears MST™ technology potentially addresses one of the major limiting factors for PV technology and solar power generation being the efficiency limits of silicon PV cells. MTI believes that a key efficiency parameter can be lifted significantly using MST™ technology and furthermore that the amount of silicon required can be significantly reduced over time, potentially making PV cells both significantly more efficient and much less expensive.
The MST™ technology involves the production of an altered or "nano-doped" layer of silicon that can be inserted into the manufacture of silicon solar PV wafers. The process lends itself to application in existing silicon wafer manufacturing processes.
K2 Energy intends to commercialise each generation of MST™ to large scale solar panel manufacturers.